Hey guys, how are you? I'm Kana. And I'm university student.
I wrote the same contents in Japanese. But I want various people to read. So I wrote in English now, Maybe there are strange English. Please go easy on my blog.
This page, The story of when I took part in AWS re:Invent 2018.
---
At First, I must say thank to my community friends.
They helped me to take part in the event.
---
I heard about re:Invent first one year ago. I can't believe that.
In this page, I wrote when I took part in re:Invent.
The day before the event starts
I arrived at Nov 25th. The event started at 26th.
So I went to sightseeing.
---
I bought SIM card in Japan, but It couldn't use…It made me busy.

---
My hobby is taking photos. So I took many photos in America.
I went to Horseshoe Bend, Antelope Canyon, Grand Canyon, and Route 66… They are great place!!!
I participated a tour, so I needed to get the meeting place at 2 A.M… I was so sleepy.
I tried to go the event's registration after the tour. I went to Aria.
I never had been to US until this time, so I got too excited.
The problem occurred.
I can't get registration.
I continued the registration. The staff said, "ID." So I showed the passport to her.
She was watching for a while. And she said, "Come on, go to Help desk. Don't worry."
I didn't have any trouble, when pre-registration. So I was confused.
Do you have an approval?
At the help desk, a staff woman asked me.
I couldn't understand the meaning of approval at first. I used google translator, I understood the meaning.
I didn't get the approval. So I said no and asked why I need an approval.
My birthday is Nov 29th 1997. The first day of the event is Nov 26th. I wasn't 21. In event's term, "Over 21 can joined." was written.
I might not be able to join.
"Sorry, we help you in 29th. You can join the re:Play!" The Staffs said. I felt heartbroken.
After that happening, My friend called AWSJapan staff soon. So the problem saved. Event team staffs in AWSJ moved for me.
In addition, many friends were worried about me. I received many messages.
Thank you so much for everyone.
Day 1
UNDER 21
It was written on the tag. I got it with event team staff. "Good for you!"everyone says. (3days until My birthday)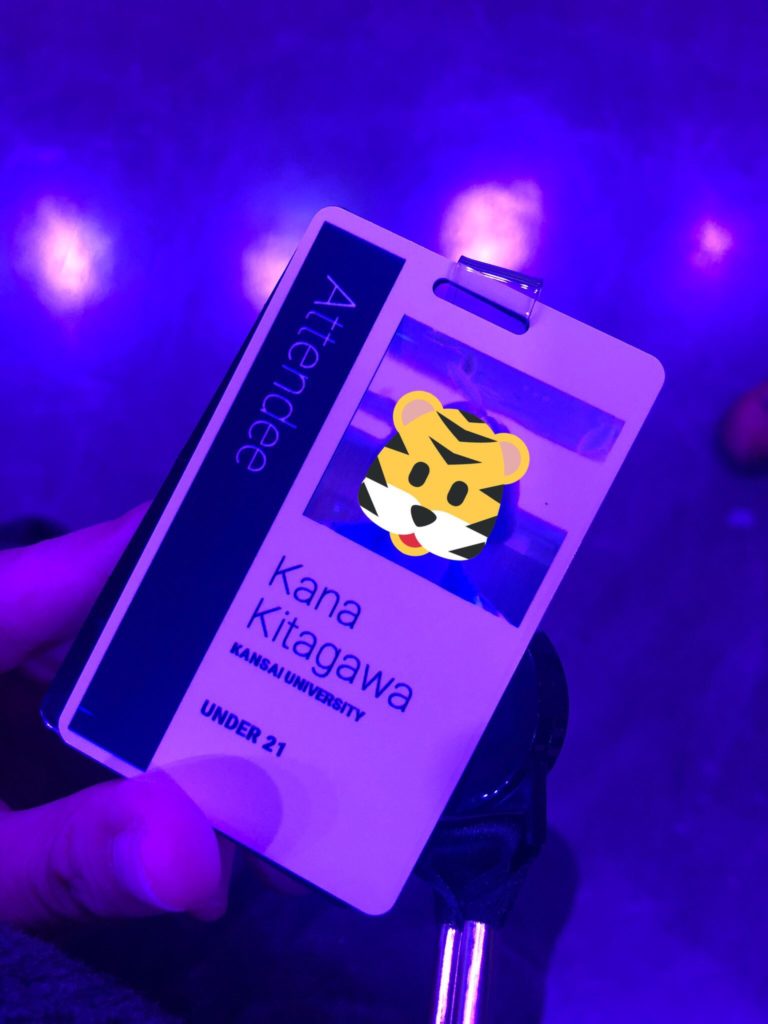 I couldn't think about sessions in the day and I wasn't good for registrar system, because I might not be able to join the event. And I felt a little nerves, I didn't use bus. I usually walked in the first day.
---
Before re:Invent, I contacted my friend Julio. He came to JAWS DAYS(Japan AWS User Group event). I thought we can't meet at the first day. But we happened to see! We took photos together. It is the best news.
---
At the community session in first day , I was desperate to listen English.
I could laugh in some points, but usually I thought. "What did he(she) say?"
After the session, I met Tak, Vit, Non, Nat,(Thai-UG members). Tak and Vit came to JAWS DAYS. I was really glad to meet them again. Thai-UG members are very kind, so I really like them. I had done hag with Tak many times in re:Invent. Nat followed my instagram, so we could be friends soon!
We took photos together and I went to next session. But I had only Walk-Up only session, so I couldn't have any sessions. I went to Expo(There are many sponsor booths).
I joined Monday night last, I finished Day 1.
I found the tip of re:Invent and reserved sessions at the hotel. Maybe I can't understand, but I reserved Advanced NEW LAUNCH sessions.
Day 2
It's difficult that women work, so it's important we present ourselves.
I could eat breakfast in hotel, but I bought. I wasted money. But it's yummy, so no problem. In Japan, we can buy Krispy Doughnuts. But I don't know that. I bought early morning, so no one is in the store.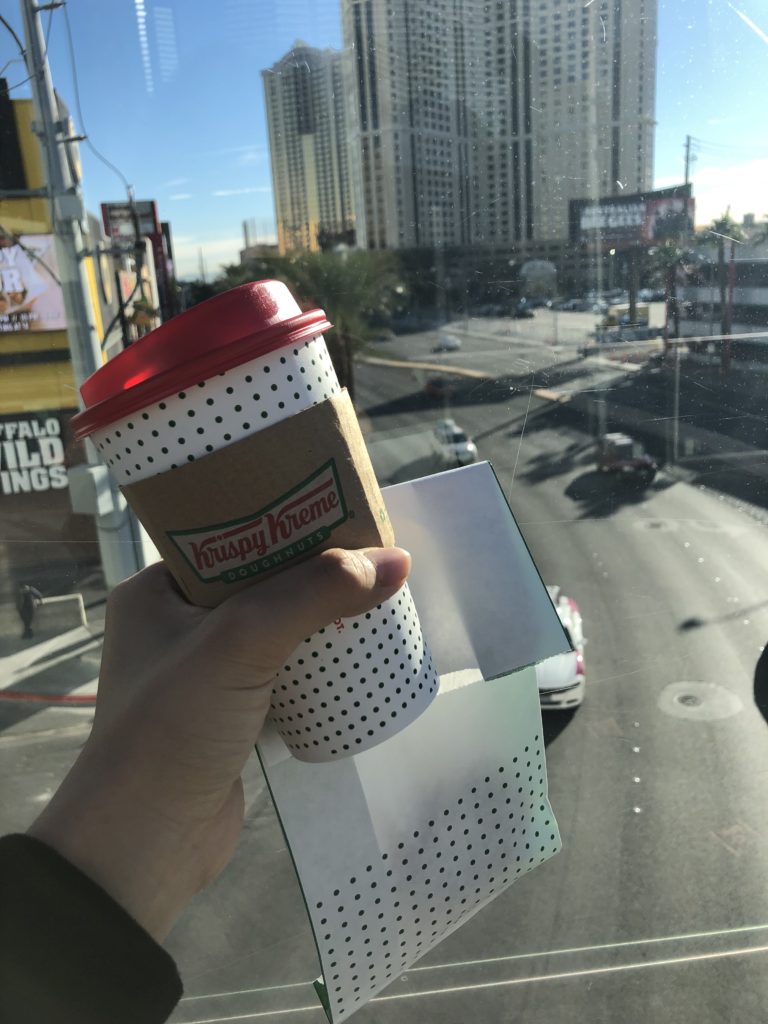 For overflow, I went to MGM grand hotel. There was held live broad casts.
My friend says "MGM is far from entrance to venue. It's too far… But its atmosphere is good.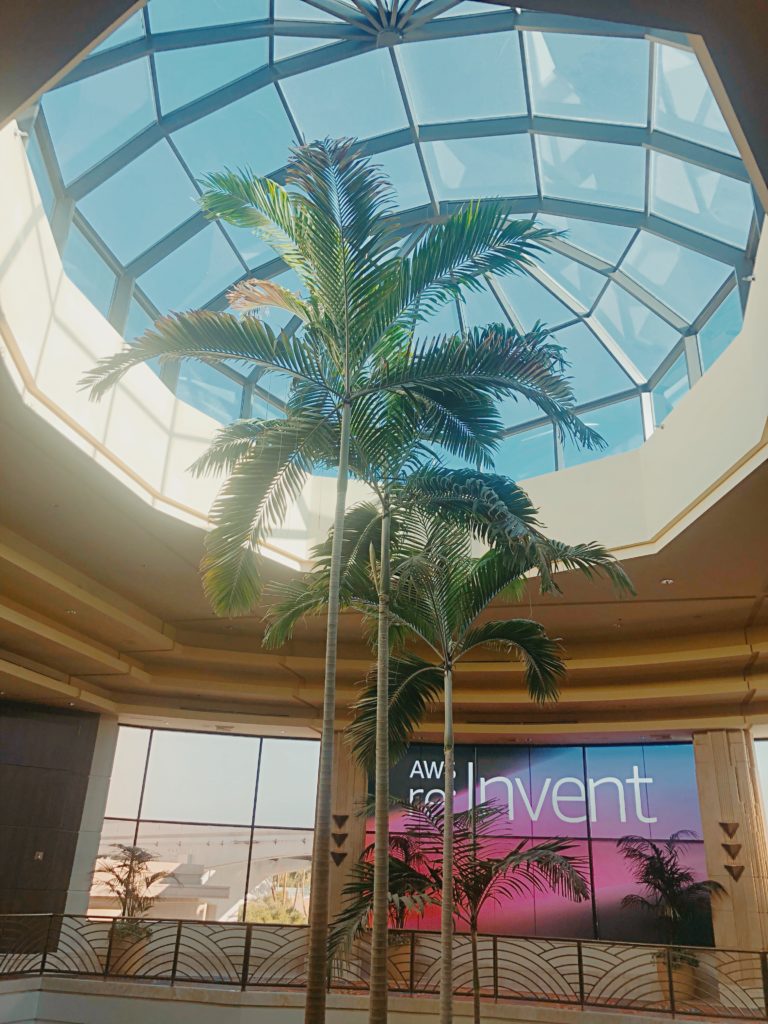 The live-cast session is a style in which the sound flows from the color headphones written in the session number.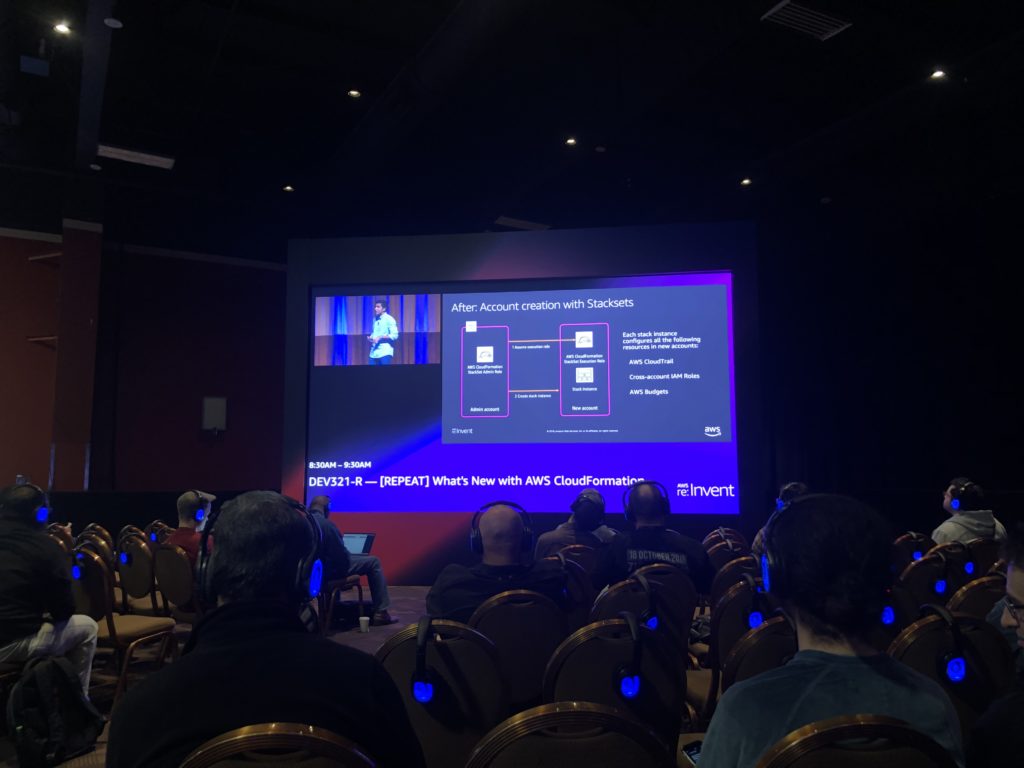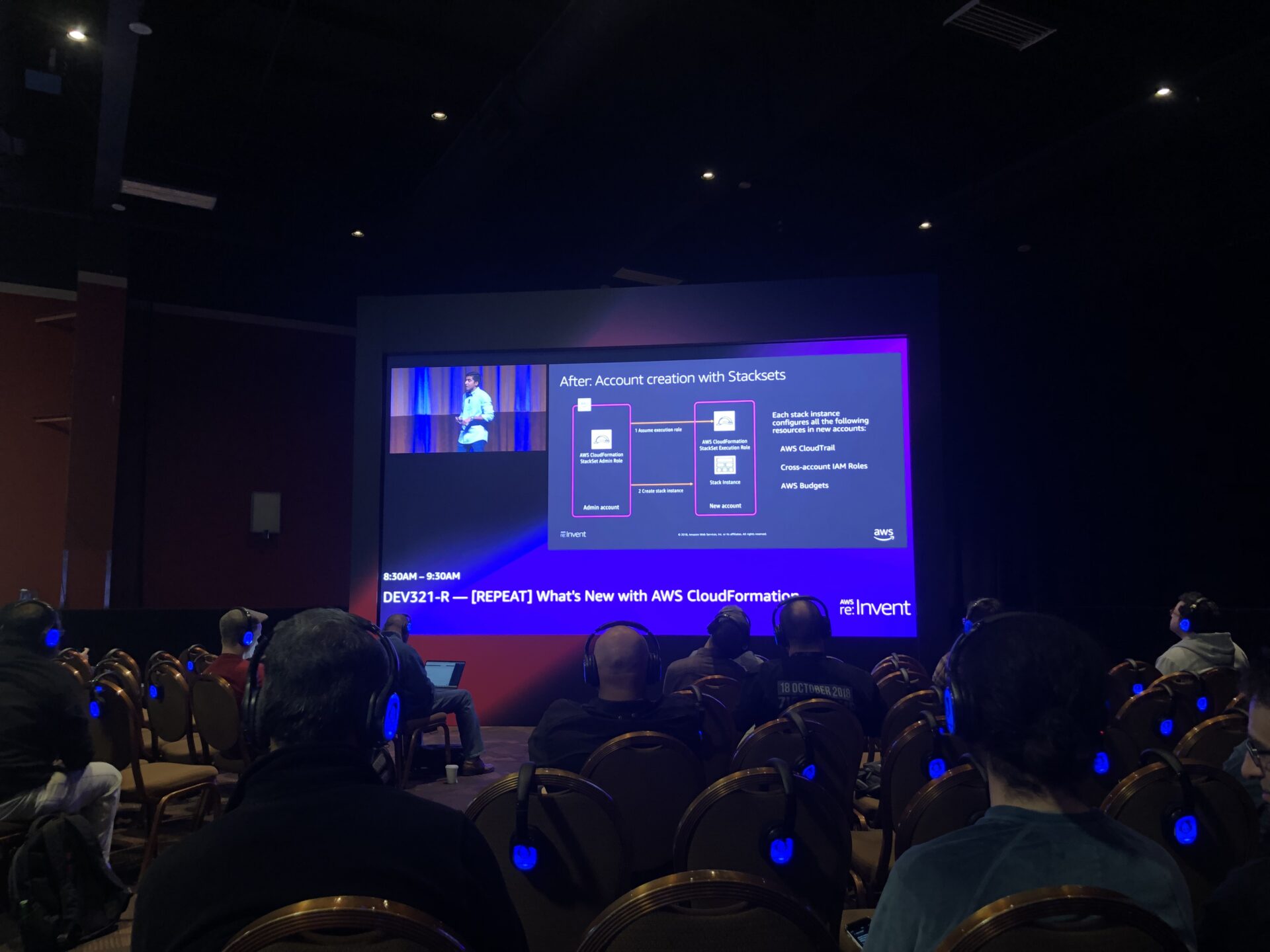 I had a blue session and sat seats which sets blue headphones and watched the session.
In early morning, it's a little sleepy so I recommend to join with a coffee.
After the session, I joined Woman Tech Lightening Talk. I really love it. The session was talked by working women manager.
Before entering the session place, we need to line up for the session. There were many people. So we need to conform this line is really right line and talk for the conformation. It's so good.
After the entering, I looked around. The ratio of men and women is about 3 to 7.
There were many women, but there were lot of men too. It made me happy.
I thought one thing though the session.
It's
Output is the most important.
81% of the working women can't continue their work because of giving birth etc…
In the situation, how do women work?
It's the most important that show yourself by you and how to work for fact.
This is output.
And To learn leadership is import too. This page was shared.
[NEW LAUNCH!!!]AWS TGW(Transit Gateway)
AWS Transit Gateway launched in Monday! I heard about it.
It was only my session to hear about new launch.
We can use at Tokyo region now.
Actually, I tried to get the Qualification of solution architect associate before joining of re:Invent. This session covered my scope of study. So it's interesting. TGW can make more simple. AWSJ updated the blog about new launch soon. Thanks to AWSJ, we can understand more deeply.
---
After the session, I went to User group booth. I met Ross again! He put on JAWS-UG pin batch. There is Alejandra, AWS evangelist. So I present the pin batch to her. Soon, she put on too! It made me glad!!
---
I joined the Chalk talk about AWS Well-Architect Framework.
Chalk talk is discussion session. In Japan, I had never joined this type session.
In that time, we discussed five points how to make.
This is five points.
Operational Excellence
Security
Reliability
Perfomance Efficiency
Cost Optimization
I listened because of my friend's session. I spent interesting time.
I hadn't studied about framework, but I want to study it. I'll read white paper.
The session is the last session of the day.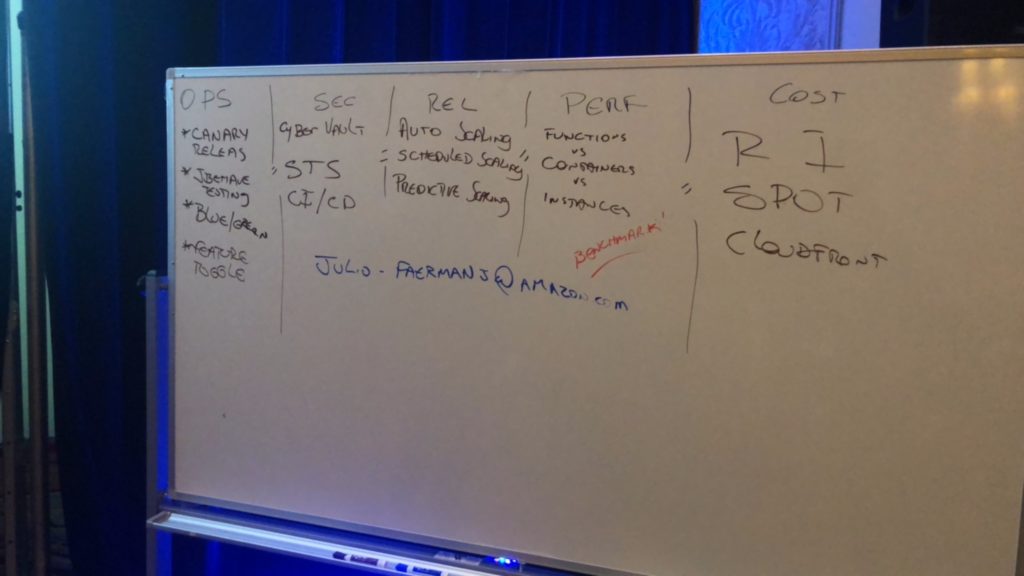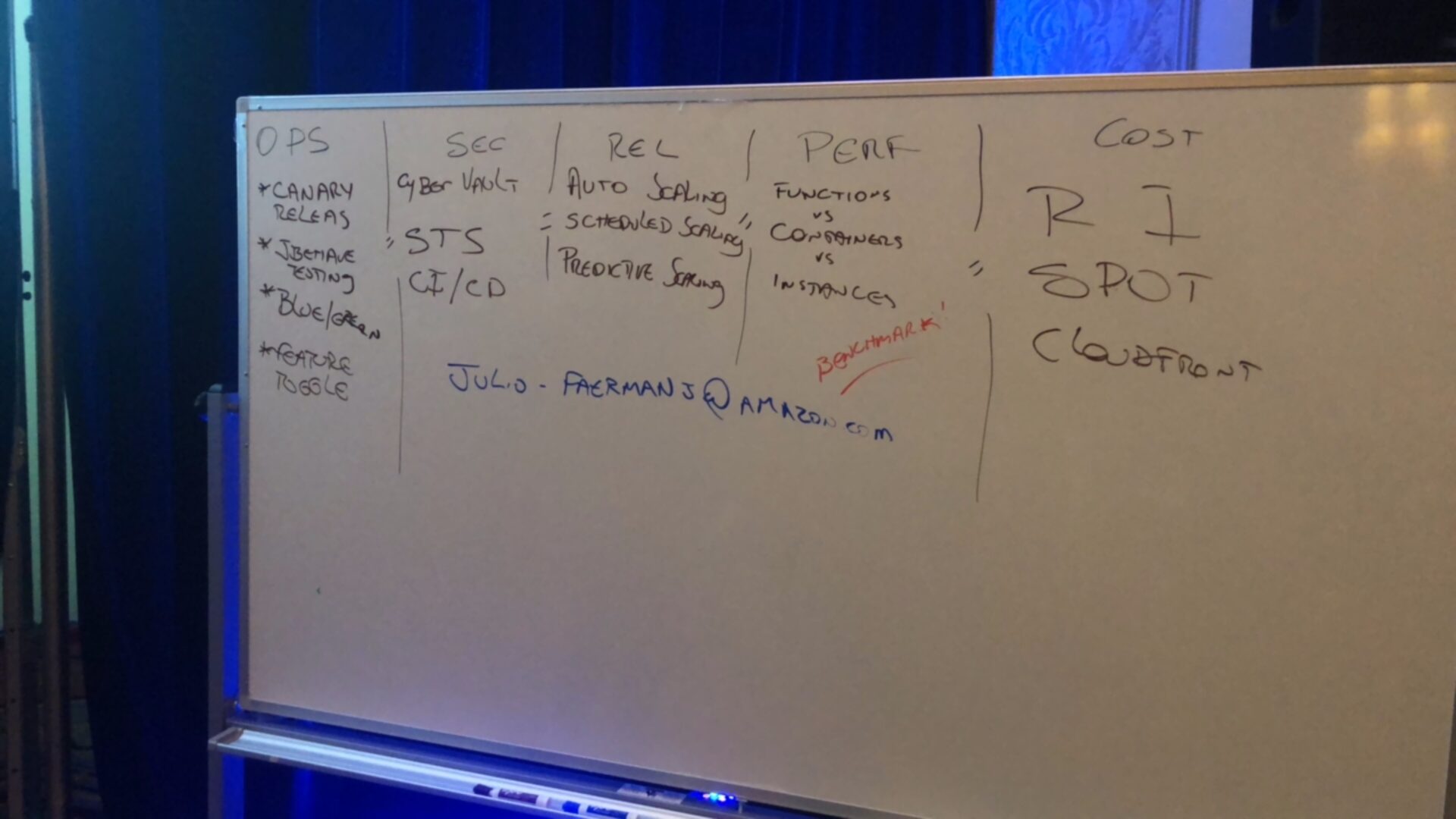 Day 3
Latter half, Me VS My Strength
I couldn't sleep well, so I felt tired. AWS re:Invent is the test of strength.
In this day, Deep Racer is launched! I wanted it, but I couldn't get the session. Many people want to get it.
I was so tired, so I went to hotel once. I had rest, so I prepared for community workshop.
(But I did rodeo and got SWAG with my friends before I went to hotel. The staffs were there are so kind. So I love them.)
First meeting and meeting again. I love community.
In the community night, there are Lightening talk by the representative of the community. After that, we did group discussion.
I was really surprised at the Korean university student did lightening talk. She belongs to Korean University User group.
I met Anh, Vietnam User Group member. He talked to me, so we took a photo!!
I spent wonderful time because I met friends who I met again and first met. I wanna talk with people from many countries, so I try to speak English more smoothly.
If I couldn't find an opportunity of talking, I danced to music with someone. After that, we did self introduction.
Day 4
This day is My Birthday!
Day 3, my birthday! I could drink alcohol hahaI.
I tried to watch Dr. Warner's Keynote. But I missed time, so I couldn't listen for real. He talked with Alexa… I really wanted to listen.
I felt soso, but I looked around with Tak, Vit, Thai User Group. It rained, so we couldn't go out. I felt more bad, so I went back to my hotel.
Cliff recommended me, so I went to Help desk to change my badge for re:Play.
At help desk, I said "Actually, today is my birthday. So please change my badge." The staff said "Congratulations!"
I wanted to get my "UNDER21" badge, but it was refused in security.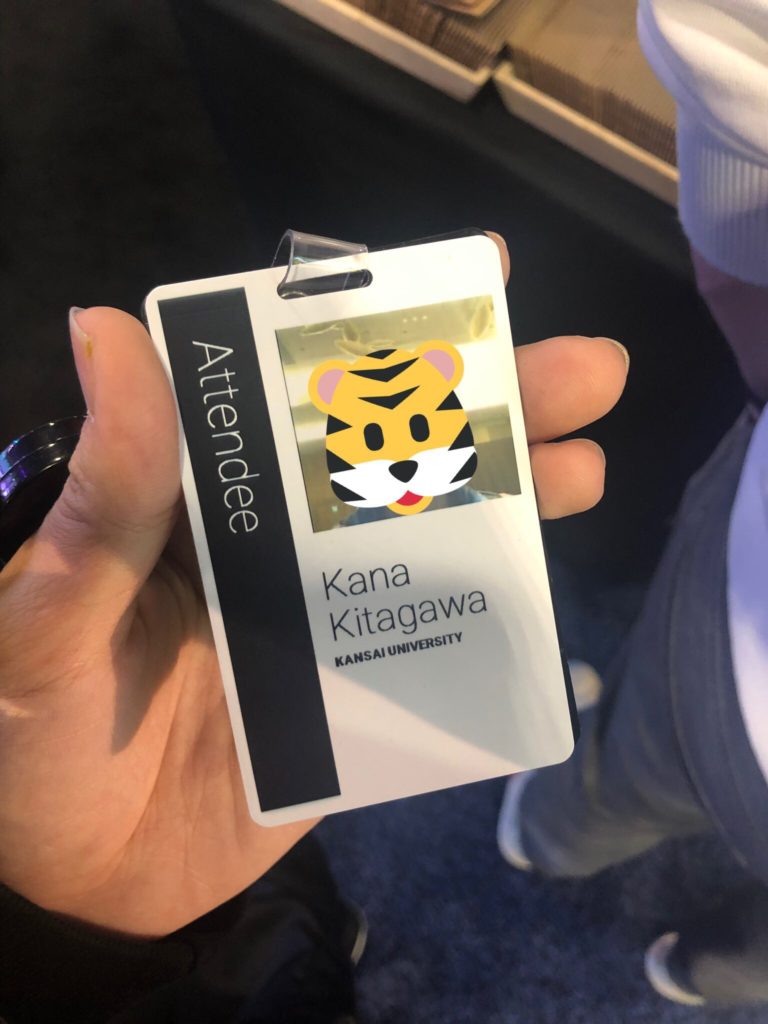 Got on the monorail, Got to re:Play
At the last of Dr. Warner's Keynote, re:Play movie was showed. There is the scene of the game. In its impact, I want to play the game. I did the ball pool game. The man in front of me is drown the ball, so the balls came to me, and I was drown too. My sight is full of balls.
When I was waiting for the turn of the game, Thomas I met the community night talked to me! I really surprised and glad!
This day is my birthday. Thai User Group Member gave me present. Thank you so much!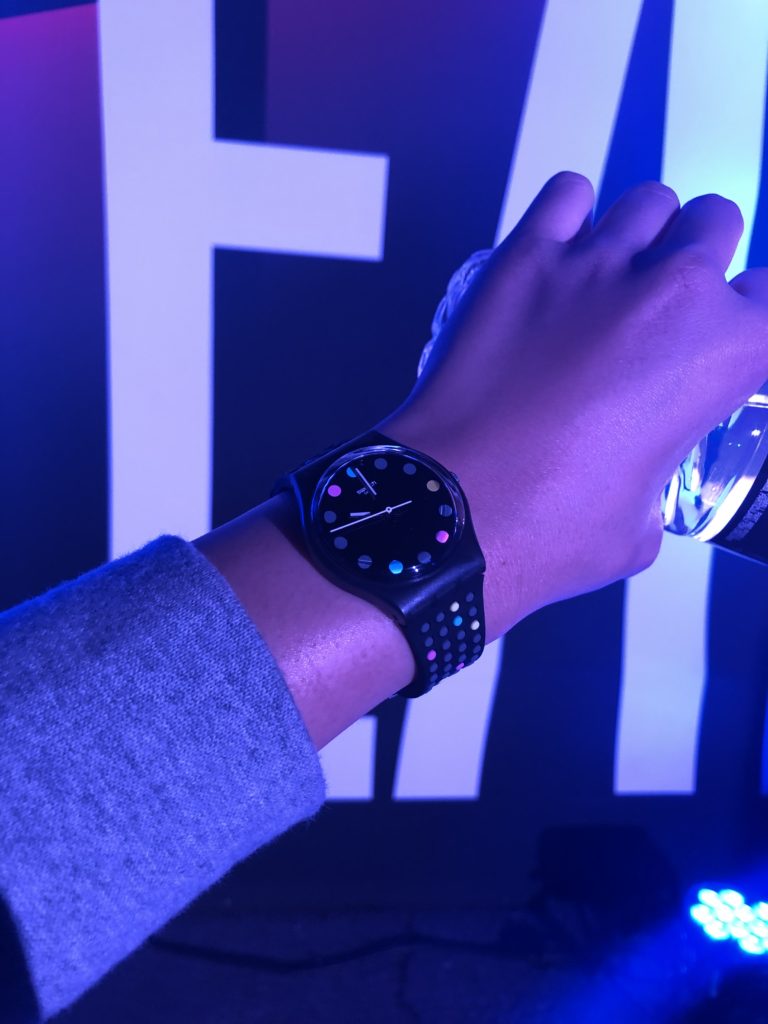 In the day, DJ stage was held. I screamed, jumped, sang with someone. I spent fun time.
I updated the live photos on my twitter account. The official account retweeted!
The important of output to launch university student community
I heard the story how to launch Korean University student community. It is one of the best reason of joining the re:Invent.
"It should start the style of club, not the community. You don't stuck AWS, we started the programming club first. We did like it!" Seon belongs to Korean University Student taught. I'm sorry for late to lunch…(I woke up at the promise time. Japanese university student isn't like me.)
In Japanese case, we can make it easy in Tokyo. In Korean case, it is difficult to do in Busan. It is same at everywhere.
We need to use SNS effective. It is so difficult… There is one year until my graduation from university. It is short time.
What did I think when I joined AWS re:Invent?
Through re:Invent, I thought to provide the service which give the good surprised and joy. We are betrayed by AWS, in good way. People clapped when new service is launched, it is great.
People gather because we love the service, interact without cultural relations. As I am there, I want to work abroad! I thought to look for my work in west of Japan, its space is more spread.
If you work in other country(Japan) and you are interested in me, or you want to challenge with me, please collect to me!
my address: [email protected]
I don't have enough time until graduation, but I want to look for the consenting work.
Thank you for reading!! See you soon:)